The Art of Survival
We look at the three stages of keeping or getting your business back on track.
We Explore the critical importance of cashflow with a model to help show your true financial position.
If you do need cash we look at the various different funding options available to you, both short-term lending schemes to help businesses 'bounce back' from the current crisis as well as more long term funding solutions.
And we see how, if all else fails, and if a company needs to be restructured or enter the Insolvency process, there are still ways of giving your past business a future.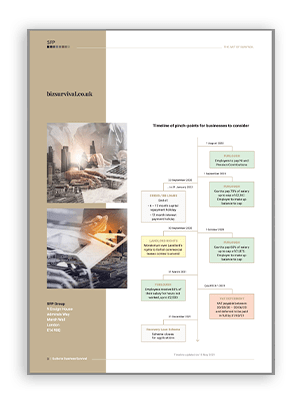 Surviving with Finance
You've assessed your cashflow position and things are tight. But you are still in a strong position.
The business volumes are there, and the cash is still potentially coming in, but you know that there is a gap between your income and expenditure that needs filling, and you have various creditors knocking at your virtual door.
There's a multitude of different funding options out there that could see you through, but which one suits you best and how do you choose?
Here we walk you through some of your options.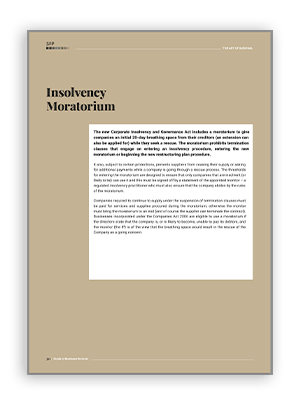 Surviving through Restructuring
Restructuring does not mean the end of the road. If you have a business to save, there are still avenues to explore that can save it.
What it does mean, however, is having to work within a framework of a significant body of law, and to do this you will need the assistance of an Insolvency Practitioner (IP).
We will guide you through the processes and stages of the various restructuring regimes in our guide.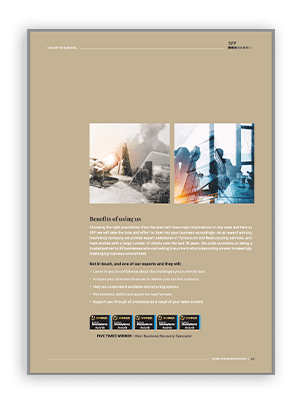 Directors Concerns
If a company fails, it is the Director's actions leading up to its failure that fall under scrutiny.
In an insolvency situation, Directors have great responsibilities, specifically to act in the best interest of their creditors. Failing to do so could lead to accusations of wrongful trading, where directors knew (or should have known) that they were trading a business that is insolvent but they failed to take action to address the issues.
We look at the main considerations for a director.
"Their communication and support throughout the whole process was outstanding, I would recommend their services should a business find itself in difficulty."
Five Times Winner
Best Business Recovery Specialist
"I found working with the team at SFP easy and professional. They told me what was going to happen, when and how it would be managed; then they did their job."
"Excellent Service. Introduced our company to other companies that has helped move our business forward."
Six Times Winner
Best Asset Based Finance Broker